Article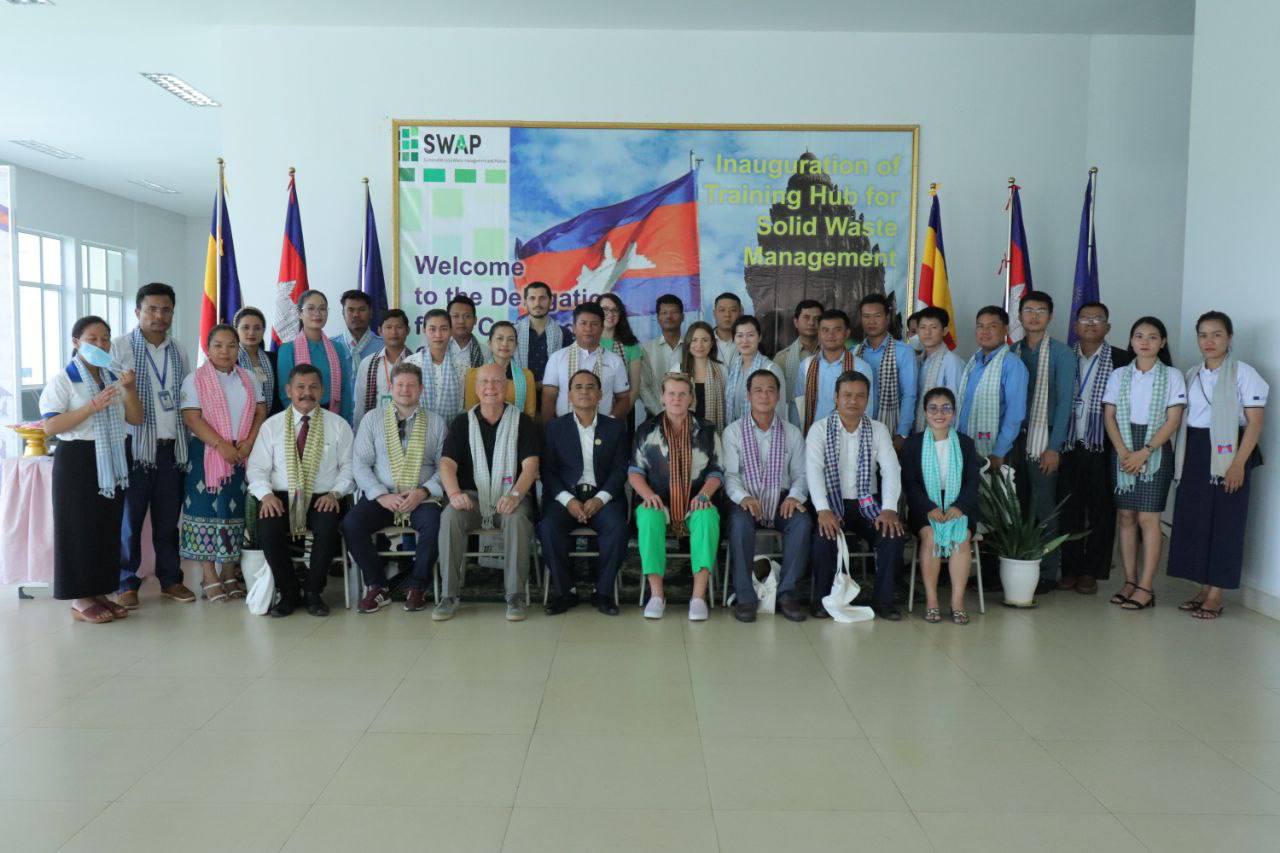 The University of Heng Samrin Thbongkhmum hosted a two-day workshop on June 26-27, 2023, in Tbong Khmum Province to mark the inauguration of their Training Hub for Sustainable Solid Waste Management and Policies (SWAP). The event aimed to enhance understanding of the SWAP project, gather stakeholder input for a solid waste management business plan, and officially launch the training hub.
1. Tbongkhmum: On the morning of June 26, 2023, University of Heng Samrin Thbongkhmum organized a workshop on "The Inauguration of the Training Hub for Sustainable Solid Waste Management" at the university, Tbong Khmum Province. The workshop was presided by Assoc. Prof Pin Tara, Acting Rector of University of Heng Samrin Thbongkhmum. This 2-day workshop was held in order to 1) understand the general information of the implementation of SWAP project 2) collect input from stakeholders to prepare a business plan for solid waste management 3) and disseminate and launched a training hub for sustainable solid waste management and policy. The workshop was attended by a delegation of EU project partners from Germany, Italy and Greece, Dean and Vice-Dean of faculties, institutes, professors, lecturers and government officials from relevant provincial departments of Tbongkhmum province, as well as students. Currently, the university is implementing the project "Sustainable Solid Waste Management and Policy (SWAP)" for 3 years (2021-2024) funded by the European Union (Erasmus + CBHE), with Hamburg University of Technology in Germany as the project coordinator in collaboration with University of Heng Samrin Thbongkhmum and 11 implementating partners, including: Chiang Mai University (CMU) and Maejo University (MJU) in Thailand, Royal University of Agriculture and The Environmental Education and Recycling Organization (COMPOSTED) in Cambodia, Thai Nguyen University of Agriculture and Forestry (TUAF) and Hue University of Agriculture and Forestry (HUAF), Vietnam, as well as European partners (TUHH, IFOA, EuroTraining, POLIBA). Through the SWAP project, the University has established the UHST Training Hub for Solid Waste Management, which aims to provide capacity building on solid waste management, including waste management technology, strengthen research partnerships, and further develop cooperation in effective solid waste management. The project also provides some equipment to implement in this training hubs. All of these activities will contribute to capacity building at the university level and support training activities. Focusing on vulnerable groups of informal waste practitioners, as well as promoting entrepreneurship and employment opportunities of graduates in the field of sustainable waste management, and preparing documents to support relevant policies through providing methods and development of good quality curriculum.
2. Tbongkhmum Province: On the morning of June 27, 2023, at this workshop, Ms. Meas Sreylen presented the integration of solid waste management curriculum into the university curriculum at the bachelor's degree level and (TVET) to connect with the industry after graduation. At the same time, the university has been continuing to implement curricula and develop business plans to reach composting waste to communities and market demand at the regional level.
Back